Click here to read about the summer's FEATURED ARTISTS!


Visit the site's GUESTS page.


Click here for site NEWS.
Featured Artists are musicians or concert series drawn from the summer concert performances. For the site's 20th Anniversary and first fully post-Covid summer, the site will be introducing, re-introducing and welcoming back as many bands as possible. The section kicks off this summer in Surf City - Huntington Beach - with the 2022 Featured Series: Surfin' Sundays. Beginning Monday, July 11, the Featured Artists section will continue by presenting a new band or artist almost every week through mid-September!
2022 FEATURED SERIES - THE ARTISTS OF THE SURFIN' SUNDAYS CONCERT SERIES IN HUNTINGTON BEACH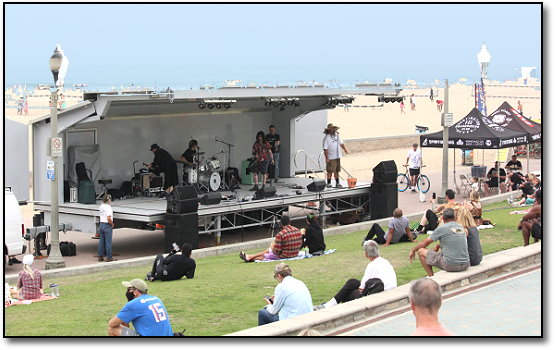 Upcoming performances: July 10, August 21, September 11 and October 9
Past performances: June 26
For more than 20 years, the Huntington Beach International Surfing Museum has been presenting the Surfin' Sundays concert series. In the early days of the series, concerts were presented in the parking lot of the Museum. However, as audiences grew, a bigger venue was needed. Concerts now take place on the oceanfront stage at Pier Plaza at the Huntington Beach pier. Each concert features a variety of local surf bands, and the day-long concerts generally take place from 11 a.m. or noon - 6 p.m. Band line-ups for the concerts will be included below.
Bands appearing at the concerts:
June 26 - The Meteoroids, Outerwave, The M-Squad, The Volcanics, Thee Swank Bastards, Dr. Phobic and the Phobic-Tones, The Nuclear Undead and The New Waves

July 10 - Burn Notice (noon), Fascinating Creatures of the Deep (1 p.m.), The Surf Kings (2 p.m.), Little Kahuna (3 p.m.), Surf Monster (4 p.m.) and Trabants (5 p.m.)

August 21 - Bands TBA

September 11 - Bands TBA

October 9 - Bands TBA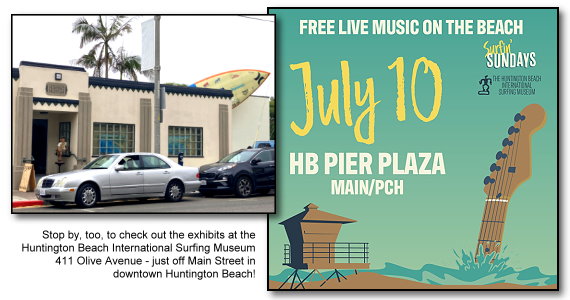 To learn more about the concerts or the Museum, visit the Huntington Beach International Surfing Museum website at www.huntingtonbeachsurfingmuseum.org.


Follow www.dorothyswebsite.org on TWITTER!
Home | Essays |&nbsp Poetry | Free Concerts | Links | 2022 Extras | About the Site
Featured Artists | Website Special Guests | News