Featured Artists are musicians or concert series drawn from the summer concert performances. Generally two "Featured Artists" are named each month, one for the first half of the month and one for the second half, and the section also includes one featured concert series for the summer. The current Featured Artists remain at the top of the page for a two-week period, then the information remains on the page in chronological order through the end of the summer.
---
Many thanks to all of the 2019 Featured Artists. You can find out more about them by clicking the links below or scrolling down the page. Be sure to check out the couple of remaining September shows, then look forward to seeing you next summer!
---
This year's Featured Artists and the month in which they first appeared in the section are listed below. Click on a link to read more about them or continue scrolling down the page.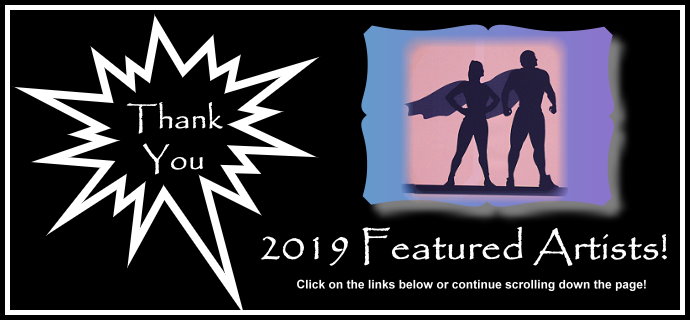 FEATURED ARTISTS

CONTINUE SCROLLING DOWN TO READ ABOUT ALL THE 2019 FEATURED ARTISTS!

2019 FEATURED SERIES - THE ARTISTS OF THE SUMMER SERIES AT ONTARIO TOWN SQUARE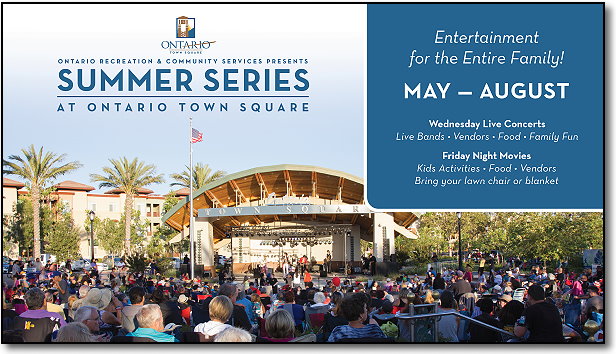 Upcoming performances: See you next summer!
Past performances: Wednesdays from May 29 - August 14; July 4
The City of Ontario presents a full summer of music on Wednesday nights beginning May 29 and continuing through August 14, with a special performance on July 4 at 10:30 a.m. by the Ontario/Chaffey Community Show Band following the Independence Day Parade on Euclid Avenue. Concerts take place from 7 - 9 p.m., with activities beginning at 5 p.m. Summer activities also include Friday night movie screenings through August 2. Concerts take place at Ontario Town Square, 224 N. Euclid Avenue, in the area bounded by Euclid Avenue, Lemon Avenue, C Street and B Street. Images of some of the artists appearing over the next two weeks, in addition to a full concert schedule, are included below.
Images from left (and performance dates): Pop Gun Rerun (July 3), Ontario Chaffey Community Show Band (July 4) and DSB (July 10)
The Ontario Town Square, a vibrant outdoor space that provides the city's historic downtown area with its first dedicated park space, is an anchor in the revitalization of the downtown corridor. The 1.77 acre park is near local shops and restaurants and includes a children's play area, pedestrian promenade, palm court and open air amphitheater. Along the park's promenade, adjacent to the north of the tower, is a history wall with tile murals depicting the history and community of Ontario. Sustainable elements are integrated into the site's design, which includes drought tolerant and California native landscaping and permeable walking pathways. To maintain the historic context of Ontario's early agriculture and industry, olive trees and citrus trees in planters also are used. The Town Square is used throughout the year as a community gathering and event space, and it is part of the City's vision to revitalize downtown Ontario and transform the area into a model of sustainable living.
The Summer Series at Ontario Town Square is presented by the City of Ontario Recreation and Community Services Department and the Ontario Convention Center. Ontario Town Square is operated by the Ontario Convention Center. For more information on the city or the concerts, call (909) 395-2020 or visit www.ontariotownsquare.org.
To view a video of a concert evening at Ontario Town Square, click on the video link below.
* Ontario Town Square/schedule photographs courtesy of the Greater Ontario Convention and Visitors Bureau. Band photographs courtesy of Pop Gun Rerun, the Ontario/Chaffey Community Show Band and DSB *

SMOKIN' COBRAS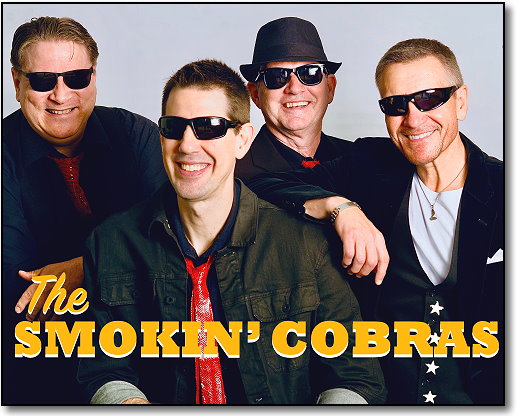 Upcoming performances: See you next summer!
Past performances: June 15 - Torrance, June 26 - Duarte, June 27 - Rancho Cucamonga, June 28 - Santa Fe Springs, July 3 - West Covina, July 4 - Alhambra, July 11 - Lakewood, July 13 - Cypress, July 15 - Covina, July 25 - Fullerton, July 28 - Monrovia, July 31 - Orange and August 2 - Fontana
The Smokin' Cobras established their "Interstellar Church of Funk and Roll" 6 years ago. Their musical voyage takes audiences back to the rock and roll hits of the 1950s and 1960s through rockin' old school and AM radio/dance hits of more recent years.
The Smokin' Cobras are led by frontman, "shaman of the show" and actor Dean Simone (Dean is Jim Beam in Jim Beam's current commercial campaign running since the Super Bowl), bassist, master performer and longtime star of the L.A. alt scene, Anthony "TRU$$" Russell, session drummer, producer and Chicago legend "The Machine" Kevin MacShane, and musician, sound technician and inventor "Steady Eddie B," Ed Beardsley, on lead guitar.
The band has performed for audiences at park concerts and around the globe from Japan to Dodger Stadium. They like to say they bring a "spiritual celebration" of all that rocks their audiences to every concert, and they are committed to bringing high energy, solid gold music to every show.
To learn more about the Smokin' Cobras, visit their website at www.smokincobras.com, or to see a video of the band, click on the link below.
* Photograph courtesy of The Smokin' Cobras *

THE SILVERADOS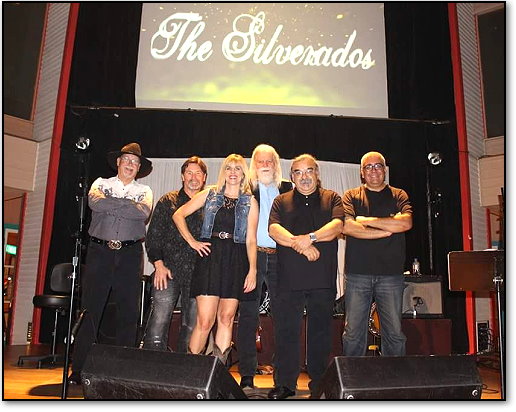 Upcoming performances: September 20 - Claremont
Past performances: June 26 - San Dimas, June 28 - Claremont, July 4 - Apple Valley, July 13 - Irvine, July 24 - Ontario. July 31 - Temple City, August 2 - Norco and August 24 - Culver City
The Silverados are a rockin' country band from the Inland Empire formed in 1992 by Mike Heil. The band's country music influences come from Johnny Cash and Merle Haggard to Carrie Underwood and Tim McGraw. They also have classic rock roots from the Beatles to Tom Petty, for popular country music with a classic rock edge.
With two female and two male leads, The Silverados play a variety of music that few other country cover bands can do. Members of The Silverados include Mike Heil (Guitar/Vocals), Doug Hanks (Lead Guitar/Vocals), Scott Van Tine (Bass/Strings), Julie Wuertz (Vocals), Ray Ochoa (Drums), Steve Sanchez (Lead Guitar), and Ashley (Vocals).
The band recently was chosen to be the opening band for Tim McGraw and Montgomery Gentry. They also perform at a variety of park concerts and city events, private events, corporate events and festivals throughout Southern California.
To learn more about The Silverados, visit their website at www.thesilverados.com, or to see a video of the band, click on the link below.
* Photograph courtesy of The Silverados *

4 ALARM BAND
Upcoming performances: See you next summer!
Past performances: June 7 - Anaheim, June 29 - Los Alamitos, July 17 - Anaheim, July 28 - El Segundo, August 16 - Laguna Niguel, August 17 - Anaheim, August 29 - Redondo Beach and September 14 - Anaheim (cancelled)
The 4 Alarm Band is one of the newest bands on the summer concert stages, having been formed a little over a year ago. The band plays favorite pop covers from artists like Ariana Grande, Sia, Kelly Clarkson, Demi Lovato, Maroon 5, Bruno Mars and others, and they also perform some of their own original songs.
Members of the band are lead vocalist Viennie V, lead guitarist Gilberto Luna, bass player and vocalist D.P. Stevens, and drummer Fernando Silva. Viennie V is a singer, songwriter and dancer who also has toured the U.S. as a solo artist and released two solo albums. Gilberto Luna, originally from Venezuela, has played lead guitar for several bands and also teaches guitar. D.P. Stevens performed bass, keyboards and vocals for rock, jazz and top 40 bands in the Pacific Northwest before coming to California. He was the president of an independent record company and also is a practicing attorney. Silva is a self-taught drummer who has toured extensively in Europe and the U.S. He also teaches private lessons and in after-school enrichment programs.
The 4 Alarm Band has performed at park concerts, local restaurant and dance venues, weddings and corporate events. Together they have played about 100 shows delivering a mix of dance music with a professional attitude and flair.
To learn more about 4 Alarm Band, visit their website at www.4alarmband.com, or to see a video of the band, click on the link below.
* Photograph courtesy of the 4 Alarm Band *

BRASIL BRAZIL
Upcoming performances: September 19 - Marina Del Rey
Past performances: June 2 - Marina Del Rey, June 13 - Marina Del Rey, June 15 - Beverly Hills, July 14 - Marina Del Rey, July 18 - Los Angeles (Downtown), September 1 - Marina Del Rey and September 12 - Marina Del Rey
Featuring internationally-known singers Ana Gazzola and Sonia Santos, Brasil Brazil delivers the style, rhythm and flavor of Brazilian music and culture. Their music is the best of Musica Popular Brasileira, classic and contemporary.
Brazil natives Santos and Gazzola have put together a band of top quality musicians from the North and South of Brazil, and with strong rhythmic African roots the two experienced vocalists present audiences with an exciting stage show. While performing the most well-known Brazilian standards, their contemporary arrangements present all the rhythms and faces of their colorful and tropical culture. The band is outfitted in bright yellow and green costumes, and their performances include a variety of unique and authentic percussion instruments. Their music, tinged with jazz and spiced with Latin and African drumming, gives every performance the joyful feel of Carnaval.
Both Sonia and Ana had successful musical careers in Brazil before moving to the United States. After extensive touring, they met in Los Angeles, realized they had the same goals, and in 1994 formed their own production company, Yellow Green Productions. They have released seven CDs and two DVDs. They have perfomed at a variety of festivals in the U.S. and abroad including the Detroit International Jazz Festival, Syracuse Jazz Festival and Viva Brazil in Singapore, at local venues like the Skirball Cultural Center and Redlands Bowl, and at concerts throughout Southern California and the U.S.
To learn more about Brasil Brazil, visit their website at www.brasilbrazilshow.com, or to see a video of the band, click on the link below.
* Photograph courtesy of Brasil Brazil *

Follow www.dorothyswebsite.org on TWITTER!
"Like" www.dorothyswebsite.org on FACEBOOK!
Home |&nbsp Essays | Poetry | Free Concerts | Links | 2019 Extras | About the Site
Featured Artists | 2019 Website Special Guests | News