Featured Artists are musicians or concert series drawn from the summer concert performances. Generally two "Featured Artists" are named each month, one for the first half of the month and one for the second half, and the section also includes one featured concert series for the summer. The current Featured Artists remain at the top of the page for a two-week period, then the information remains on the page in chronological order through the end of the summer. In addition to the information included below, you can find out more about the artists by clicking the website or Facebook link(s) listed or by watching the videos.
---
Please welcome the current Featured Artists for August 16 - 30, R&B/Soul/Funk/Blues/Jazz group the Blue Breeze Band.
---
This year's Featured Artists and the month in which they first appeared in the section are listed below. Click on a link to read more about them or continue scrolling down the page.
---
FEATURED ARTISTS
June #1 - 2018 Featured Series - Artists of the Baldwin Park Summer Concerts in the Park and Downtown Street Market

July #1 - My Generation (Tribute to the British Invasion)

July #2 - Special Feature - L.A. County Parks After Dark (PAD)

August #1 - The Trip (Rock/Covers)

August #2 - Blue Breeze Band (R&B/Soul/Funk/Blues/Jazz)

September #1 - Upcoming

September #2 - Upcoming

BLUE BREEZE BAND
Upcoming performances and events: August 25 - Altadena and August 26 - Manhattan Beach
Past performances and events: June 10 - Palos Verdes, June 16 - Marina Del Rey, June 24 - Santa Monica, July 18 - Chino Hills, July 31 - Walnut, and August 15 - Signal Hill
The multi-faceted Blue Breeze Band performs a variety of R&B/Soul/Motown/Funk music with the sounds of Blues and Jazz rounding out their shows.
The band was formed in the late 1990s and came together to perform the best heart and soul dance music from the last several decades. They have performed for former President Bill Clinton, for the US Armed Services in Okinawa, Japan, at festivals throughout Southern California, and at a variety of other private and public events, including the summer park concerts. Blue Breeze appeared as musicians in the Warner Brothers film "Why Do Fools Fall in Love" (the Frankie Lymon story) and a nationally-televised E*TRADE commercial, and this year they kicked off the 2018 Soulful Summer Nights series at the Mission San Juan Capistrano.
The Blue Breeze Band was founded by Harold Wherry (Electric Guitar/Vocals). Other members of the band are Bob Henley III (Vocals), Laia Jones (Vocals), Richard Moorings (Keyboards/Vocals/Trombone), Tom "Buster" Harrell (Drum/Vocals), Tim Anderson (Tenor Saxophone/Vocals), Darryl Bomar (Electric Bass/Vocals) and Tyrone Griffin (Trumpet/Flugelhorn/Vocals).
If you'd like to learn more about the band, you can visit their website at www.bluebreezeband.com, or watch the video below.
* Photograph courtesy of the Blue Breeze Band *

2018 FEATURED ARTISTS
2018 FEATURED SERIES - THE ARTISTS OF THE BALDWIN PARK SUMMER CONCERTS IN THE PARK AND DOWNTOWN STREET MARKET
Upcoming performances: Thursdays through September 13 on Maine Avenue
Past performances: June through August 2 at Morgan Park; August 9 on Maine Avenue
The city of Baldwin Park presents a full summer of music on Thursday nights beginning June 21 and continuing through September 13. Summer music starts on June 21 with the Concerts in the Park at Morgan Park, 4100 Baldwin Park Boulevard (pictured above, top left), along with the Downtown Street Market. Concerts take place from 7 - 9 p.m., with the market open from 5 - 9 p.m. The market includes food, produce and artisan vendors and a beer garden, plus a free fun zone for children. Bands opening the series include The Band Fresh (Top 40, pictured above, top right) on June 21 and Richard Bean and Sapo (Latin Rock, pictured above, bottom left) on June 28. Concerts continue in Morgan Park through August 2.
Beginning August 9, the concerts and Downtown Street Market move to Maine Avenue (Ramona Boulevard/Clark Street, pictured above, bottom right) with the vendors and activities plus two stages of music. Performances on Stage One take place from 7 - 9 p.m., and performances on Stage Two take place from 6:45 - 8:30 p.m. Concerts on Maine Avenue continue through September 13. The schedule of concerts for both locations is included below.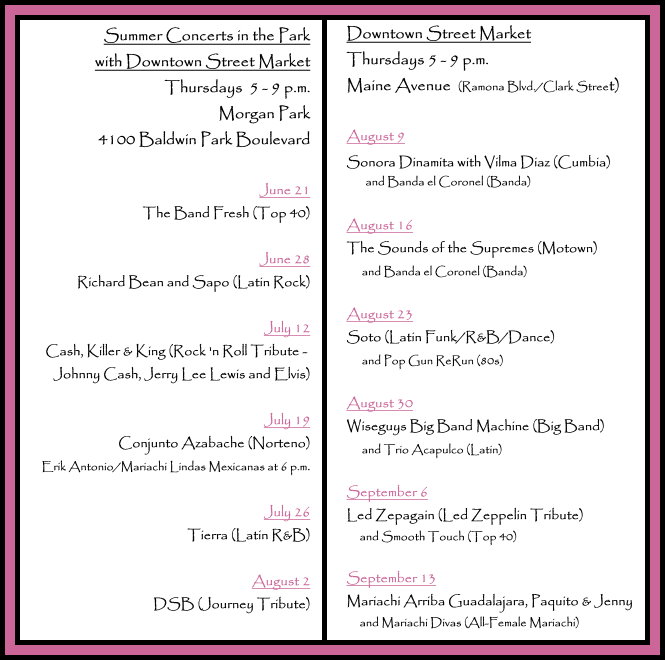 Sponsors for the Concerts in the Park in Morgan Park include Kaiser Permanente, SCE, Allan Company Recycling Services, Waste Management and In-N-Out Burger. Sponsors of the Maine Avenue Downtown Street Market concerts include Blue Shield of CA/Care 1st Health Plan, T Mobile, Alignment Health Care, Kaiser Permanente, the Los Angeles County Arts Commission, California Seafood Pub, Jungle Dental, Lakeside Financial Services, El Jacal, Park Plaza, La Concinita, Via-Mar Seafood Restaurant, Tony's Coffee House, Guadalajara Grill, Party 360, The Sauce, Castucci Foundation, JB Eyebrow Threading and Beauty, Central City Community Health Center, Farmers Insurance Deviana Agency and Chicas Graphics and Designs.
To view a video of the schedule of this year's Morgan Park concerts, click on the video link below. In addition, a Maine Avenue/Downtown Street Market video can be viewed at www.youtube.com/watch?v=mryt85x39U4.
The city of Baldwin Park is known as the "Hub of the San Gabriel Valley." For more information on the city or the concerts, call (626) 813-5245 x 317 or visit www.baldwinpark.com.
* Photographs courtesy of the City of Baldwin Park *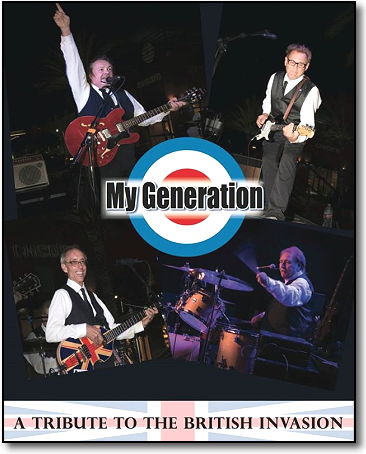 Upcoming performances: September 8 - Huntington Beach, September 15 - Chino Hills and September 22 - Ontario
Past performances: June 10 - Long Beach, June 25 - Covina, June 27 - Temple City, July 8 - Long Beach, July 11 - West Covina, July 12 - Upland, July 14 - Chino Hills, July 15 - La Canada Flintridge, July 19 - Whittier, July 25 - Fullerton, August 2 - Cerritos, and August 4 - La Palma
Back in the 1960s, a number of British bands burst on to the music scene in the United States. That period in the country's music history is known as the "British Invasion," and the band My Generation pays tribute not to any one band, but rather to the music of that era. The band plays some of what they call "the best music ever written" by groups like The Beatles, Rolling Stones, The Who, The Kinks, The Animals, The Zombies, the Dave Clark 5, the Moody Blues, the Yardbirds and many others.
One of the newer bands on this summer's concert stages, My Generation was formed in July of 2015. The band's members are all huge fans of the British Invasion artists. Over the last three years My Generation has appeared at municipal concerts in the park, music festivals, resorts and nightclubs, corporate functions and many other events.
The members of My Generation are all rock and roll veterans. The four-piece group features Billy McHale on lead vocals and rhythm guitar, Michael Robinson on lead guitar and vocals, Woody Andrews on bass and vocals, and Gary Long on drums and vocals.
If you'd like to learn more about the band, you can visit their website at www.mygenerationband.net, or watch the video below.
* Photograph courtesy of My Generation *

SPECIAL FEATURE - L.A. COUNTY PARKS AFTER DARK
Upcoming performances and events: 33 Los Angeles Parks through the end of August/Labor Day
Past performances and events: 33 Los Angeles parks beginning June 14
Over the years, this site has grown to incorporate concerts and activities at more than 120 venues throughout a large part of Orange County, Los Angeles County and the Inland Empire. Since 2010, one program in particular has grown - so much so that aspects of the program relative to the type of things included on www.dorothyswebsite.org have become difficult to cover in their entirety on the concert and "Extras" pages. As a result, it seemed appropriate this summer to include a special feature covering the L.A. County Parks After Dark (PAD) program.
PAD was launched in 2010 in three L.A. County parks. According to the Los Angeles County Department of Parks and Recreation, PAD was first launched to promote safer park environments and reduce gang violence in communities with higher rates of violence, gang activity and crime. It has since evolved into a key strategy to provide a safe environment and greater access to free recreation, as well as health and wellness programs. Most PAD parks are located in underserved communities.
This summer there are 33 PAD parks offering not only concerts in the park and outdoor movie screenings, but also recreational sports programs, arts programs, senior activities, classes on healthy eating and exercise, computer courses, healthcare assessments and screenings and social services. Programs are so extensive that it is beyond the scope of this site to list them all individually. While fees are applicable to some programs, most are available free of charge.
Programs and events are covered in an online book available at the website listed. To view the P&R Special Parks After Dark magazine and guide, visit http://content.yudu.com/web/42ukp/0A42vm9/SpecialAfterDarkIss5/html/index.html. You also can learn a bit more about the program by viewing the video below.

THE TRIP
Upcoming performances and events: September 19 - San Juan Capistrano
Past performances and events: July 10 - Walnut, July 22 - Rancho Santa Margarita, July 29 - Lake Forest, August 1 - Buena Park, August 4 - Long Beach, August 12 - San Clemente, and August 15 - Orange
The Trip is an Orange County rock/cover band playing modern rock hits, Top 40 songs, 80s and 90s alternative rock hits and more. The band is the official Los Angeles Dogers pre-game party band.
The Trip band entertains regularly at private events such as weddings and at corporate events throughout the Southland and beyond. They have performed at corporate events for Microsoft, Disney, Lucasfilm, Sony Pictures, Budweiser, Dell, Cisco and many other Fortune 500 companies. They have even rocked the deck of the USS Midway. On stage they have been joined by Toby Keith at his "OK Kids Korral" benefit concert and Michael Anthony of Van Halen and Chickenfoot at his daughter's wedding.
Members of The Trip are Steve Bonino (Bass/Vocals), Mike Lewis (Drums/Programming/Vocals), Erik Johnson (Guitar/Vocals), Steve Fazio (Guitar/Vocals) and Seth Romano (Lead Vocals).
If you'd like to learn more about the band, you can visit their website at www.tripband.com, or watch the video below.
* Photograph courtesy of The Trip *

Follow www.dorothyswebsite.org on TWITTER!
"Like" www.dorothyswebsite.org on FACEBOOK!
Home |&nbsp Essays | Poetry | Free Concerts | Links | 2018 Extras | About the Site
Featured Artists | 2018 Website Special Guests | News